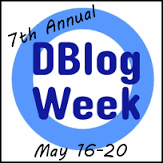 I'm sooooooooooooooooooo excited about taking part in my very first Diabetes Blog Week, the 7th annual Diabetes Blog Week, which runs from 16th to 20th May. I've admired Karen at Bitter Sweet Diabetes for a number of years so I'll say it again. I'm soooooo excited!  We are all kicking off Diabetes Blog Week by talking about why we do what we do.
I write a blog because is a form of therapy for me - even since my early teens I used writing as a way to feel better about the world and about life. The making it public came about because I have too much to say and I like to listen. I'm part of a real-life diabetes support group and I need to zip it at those meetings. I do still talk and share at them but it's my one opportunity to hear about other people's' experiences and diabetes stories, and so I zip it as best I can.
So, Blood Sugar Trampoline is where I let it rip - nicely;-).
The most important diabetes awareness message I want to share is that the diabetes community needs to raise their voices if they want to improve our health service. At the moment, our health service is under resourced and inefficient. But the voice of the patient is a powerful one and a lot of us don't realise that.
I'm passionate about fighting for the health service we, men, women and children with diabetes, deserve. It's a big task and it's a slow one. We have a lot of work to do in Ireland to improve our health service for people with diabetes and we only have only organisation trying to do it all. They are doing the best they can with their limited resources they have but they need us to help them. My husband told me back in 2007, that one of the ways you can make an organization better is to be part of it.
I hope that in some small way Blood Sugar Trampoline will inspire more people with diabetes to advocate for themselves and others. Many hands make light work!